'Broken Conversations' is the debut album from Cork band 'The Hard Ground' which is being released on Fifa Records on April 12th in Ireland and in the UK on Fish Records on the 19th April. It's a solid folk-rock album with contrasting male/female vocals throughout.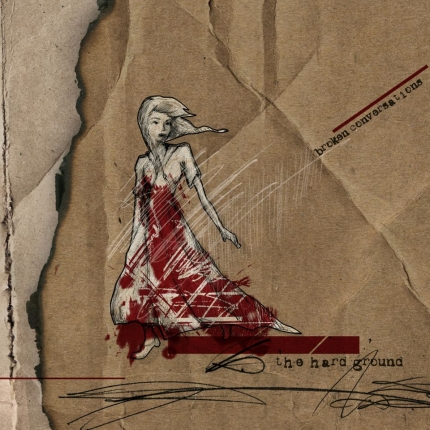 The Hard Ground is a four piece band from Cork consisting of two main songwriters Pat Carey and Marlene Enright who share the vocals and wrote five songs a piece on the album. They also provide a 'Beauty & The Beast' style of vocals where Marlene's exquisite vocals contrast perfectly to Pat's coarse, bluesy vocals. This is most effective on the tracks where there's a male/female narrative story-line within the song.
There's some great tunes on 'Broken Conversations'. I love the track 'Restless' with it's fine piano and cello introduction. 'Mr Boom' is a fine bluesy track tipping the cap to a Tom Waits influence. The best track is the opening track and lead single from the album entitled 'Pawn' where Marlene's vocals really shine through.
'Broken Conversations' is a really good album of solid agreeable songs that makes for a pleasant listening experience. However for some reason it failed to light a passion in me.
The Hard Ground - Broken Conversations [9 out of 12]
Buy The Album:
http://www.fishrecords.co.uk/thehardground/thehardgroundbokenconversations.html
UPCOMING TOUR DATES
FRI - Apr 12, 2013 Cork The Half Moon
BUY TICKETS
THU - Apr 25, 2013 Dublin The Workmans Club
BUY TICKETS
THU - May 02, 2013 Galway Monroe's
WED - May 08, 2013 Stroud, UK The Prince Albert
THU - May 09, 2013 London, UK The Slaughtered Lamb
BUY TICKETS
FRI - May 10, 2013 London, UK Gypsy Hill Tavern FRI -
May 17, 2013 Cork The White Horse Inn, Ballincollig
SAT - May 25, 2013 Dingle, Kerry McCarthy's Bar
SAT - Jun 15, 2013 Kilkenny Cleeres