'Angels Without Wings' is folk album of quality tunes from Kildare singer Heidi Talbot and a supporting cast including Mark Knopfler, King Creosote, Tim O'Brien and more.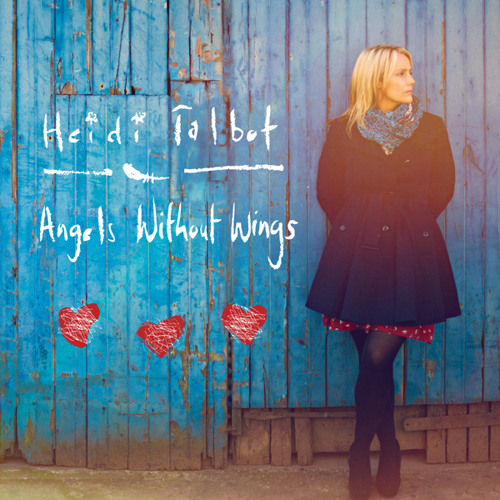 Scotland based Irish folk singer Heidi Talbot released 'Angels Without Wings' to wide acclaim in the folk circles and is in the middle of a mammoth UK tour in support of the album. Heidi Talbot has had a noteworthy career initially as a member of Irish-American super group 'Cherish the Ladies' as well has releasing five solo albums and appeared on albums by Eddi Reader, Idlewild and Boo Hewerdine. 'Angels Without Wings' finds Heidi at the pinnacle of her creative ability.
The album was recorded live in Glasgow's new Gorbals Sound Studios with Ian Carr (guitars), Phil Cunningham (accordion), Michael McGoldrick (flutes/whistles), James Mackintosh (percussion), Boo Hewerdine (acoustic guitar) and Ewan Vernal (bass). It's very much a full band folk sound with some fabulous collaborations throughout. The most impressive is the Americana sounding 'When The Roses Come Again' featuring Mark Knopfler.
'Angels Without Wings' has been a difficult enough album to review for a number of reasons. While consistently charming on initial listens, the quality of the songs on offer take some time to filter through and to stand out. In total I'd say there are four excellent tunes on the album which shine on an otherwise ordinary set of songs. Also the Parisian sounding title track which opens the album is so delicious and yet so different to the rest of the album that I kept wanting the other songs to sound like 'Angels Without Wings'.
Other songs to impress me are 'Button Up' which is probably the most radio friendly track on the album with a great story and fine backing vocals. I also love the vocals and charm of the closing track 'Arcadia'. I've grown to enjoy the album more after numerous listens and would recommend you to check out 'Angels Without Wings'.
Heidi Talbot - Angels Without Wings [9 out of 12]
http://www.heiditalbot.com/
Tour Dates:
Mon 04 Mar Rodewald Suite, Liverpool Philharmonic Hall, England. Box Office: 0151 7093789
Tue 05 Mar Pocklington Arts Centre, Pocklington, England. Box Office: 01759 301547
Thu 07 Mar Carnegie Hall, Dunfermline, Scotland. Box Office: 01383 602302
Fri 08 Mar Eden Court, Inverness, Scotland. Box Office: 01463 234234
Sat 09 Mar Eastgate Arts Centre, Peebles, Scotland. Box Office: 01721 725777
Sun 10 Mar The Woodend barn, Banchory, Scotland. Box Office: 01330 825431