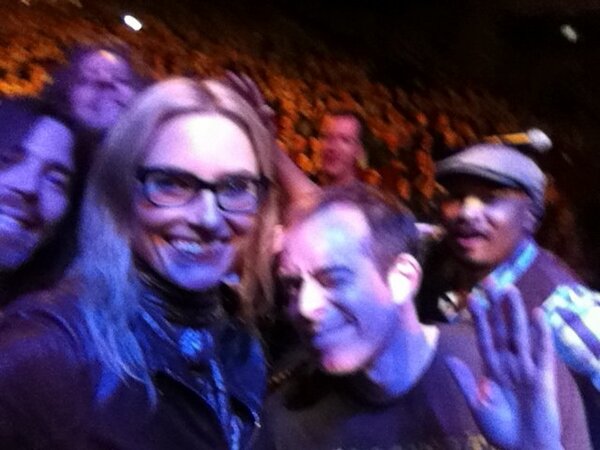 Twitter @aimeemann
with support from Ted Leo
Finishing a tour in Dublin with a gig in the wonderful surroundings of the Bord Gais Energy Theatre, with a superb backing band, performing a 'Best of'' set, taking audience requests, being 'Punch Drunk' and playing a Thin Lizzy cover, Aimee Mann should be really pleased and very proud of herself. It really was a quality gig from Aimee and her band.
Support act 'Ted Leo' began his set with an awful tune but improved and eventually won me over. Sounding like the cross between Hamill On Trial and Lloyd Cole, his songs had meaning and at times was able to make his electric guitar sounding lovely. Aimee performed two songs with Ted and they were super tunes. Ted's song 'The Gambler' in particular is a song I'd be very interested in hearing when released.
Here's footage of Ted Leo & Aimee Mann performing 'You Can't Help Me Now' and 'The Gambler' live in the Paradiso, Amsterdam.
As expected a good few tracks performed from Aimee Mann were taken from her new album 'Charmer'. Current single 'Labrador' stood out along with 'Living A Lie' co-sung by Ted Leo. Past classics such as 'Lost in Space', 'Freeway', 'Save Me' and 'Invisible Ink' were all well received by the crowd. For me there were two clear highlights. Closing track 'Deathly' is such a great song and finished the gig on a high. The other highlight was a Thin Lizzy cover from the 1971 debut self-titled album called 'Honesty Is No Excuse' which sent shivers down my back. It was an incredible version of a classic song.
Here's footage of Aimee & band performing 'Honesty is no Excuse' from Cologne.
It was such a great pleasure to finally catch Aimee Mann live. I was hoping to hear a few of my favourite tracks but with seven studio albums under her belt it's always pot luck as to what goes on the setlist. She did play a number of tracks that the crowd requested and performed for a good two hours. It was excellent value for money and I'm looking forward to the next Aimee Mann gig in Dublin. Oh and she's nothing against Phil Collins ..... apparently!
http://www.aimeemann.com/