'Rhythm & Repose' ticks all the right boxes for Glen Hansard as he attempts to keep himself relevant. There's enough quality tunes to please the masses but the big 'but' is that it's not 'The Frames' or 'The Swell Season'.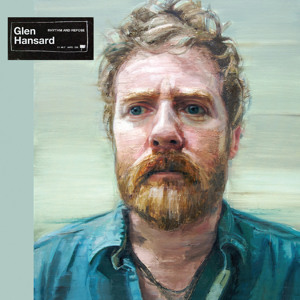 Isn't it always a problem when a solo album appears that it can't be judged in isolation? I mean, Paul McCartney released a few decent albums but they weren't The Beatles records! As soon I stopped looking for Colm Mac Con Iomaire's wonderful violin skills or the delicate vocals of Marketa Irglova, 'Rhythm & Repose' was seen in a more favourable light. That is because there's no doubt that Glen Hansard is an exceptional songwriter and there are some great tracks on this album.
'High Hope' is probably the most 'Frames'-like track on the album with fabulous backing vocals. It's one of only a few tracks which finds Glen's gravelly emotional voice in full on mode. The upbeat 'Love Don't Leave Me Waiting' is a successful single in the making while 'Talking with the Wolves' is lyrically a great track. My favourite song is 'Philander' which is Glen doing what he does best by honestly writing a real love song with no holds barred. It's a song full of emotion and tension but with fabulous uplifting lyrics.
I suppose the only negative is that there's isn't more songs like 'Philander' on it. It's an album that will please new 'Once' fans without breaking boundaries here at home. With this album, Glen has become relevant worldwide while becoming in many respects irrelevant back home as I can't imagine there'll be many good reviews from journalists, bloggers and I can't imagine much radio play from Irish stations. *
Glen Hansard - Rhythm & Repose [9 out of 12]
Tour Dates
Fri 6th Jul 2012 Harvest of Art Festival Wiesen Austria
Find Tickets
Fri 13th Jul 2012 Latitude Festival Southwold United Kingdom
Find Tickets
Wed 18th Jul 2012 Posto Unico: Botanique Festival Bologna Italy
Find Tickets
Fri 20th Jul 2012 Acoustic Lakeside Venue Sitterdorf Austria
Find Tickets
Tue 24th Jul 2012 De Duif Amsterdam Netherlands
Find Tickets
Wed 25th Jul 2012 Carre Theatre Amsterdam Netherlands
Find Tickets
Thu 26th Jul 2012 Carre Theatre Amsterdam Netherlands
Find Tickets
Sat 28th Jul 2012 O2 Apollo Manchester Manchester United Kingdom
Find Tickets
Mon 30th Jul 2012 HMV Hammersmith Apollo London United Kingdom
Find Tickets
Tue 31st Jul 2012 HMV Hammersmith Apollo London United Kingdom
Find Tickets
Fri 3rd Aug 2012 Festival Sudoeste TMN Zambujeira Do Mar Portugal
Find Tickets
Fri 31st Aug 2012 Electric Picnic Stradbally Ireland
Find Tickets
Sat 1st Sep 2012 Electric Picnic Stradbally Ireland
Find Tickets
Sun 2nd Sep 2012 Electric Picnic Stradbally Ireland
Find Tickets
Tue 4th Sep 2012 Union Chapel Islington United Kingdom
Find Tickets
Sat 15th Sep 2012 Michigan Theater Ann Arbor United States
Book Tickets
Sun 16th Sep 2012 Danforth Music Hall Toronto Canada
Find Tickets
Tue 18th Sep 2012 Berklee Performance Center Boston United States
Find Tickets
Wed 19th Sep 2012 9:30 Club Washington United States
Book Tickets
Thu 20th Sep 2012 Union Transfer Philadelphia United States
Book Tickets
Sat 22nd Sep 2012 Taft Theatre Cincinnati United States
Find Tickets
Sun 23rd Sep 2012 Buckhead Theatre Atlanta United States
Book Tickets
Tue 25th Sep 2012 The Pageant St Louis United States
Find Tickets
Wed 26th Sep 2012 Liberty Hall Lawrence United States
Book Tickets
Fri 28th Sep 2012 Pabst Theatre Milwaukee United States
More Info
Sat 29th Sep 2012 First Avenue Minneapolis United States
Find Tickets
Tue 2nd Oct 2012 Vogue Theatre Vancouver Canada
Find Tickets
Wed 3rd Oct 2012 Moore Theatre Seattle United States
Book Tickets
Thu 4th Oct 2012 Crystal Ballroom Portland United States
Book Tickets
Thu 18th Oct 2012 Kaufleuten Zürich District Switzerland
Find Tickets
Fri 19th Oct 2012 Muffathalle Munich Germany
Find Tickets
Mon 22nd Oct 2012 Gibson Frankfurt Germany
Find Tickets
Tue 23rd Oct 2012 Alhambra Paris France
Find Tickets
Wed 24th Oct 2012 Cirque Royale Brussels Belgium
Find Tickets
Tue 6th Nov 2012 Kiva Auditorium Albuquerque United States
Find Tickets
Wed 7th Nov 2012 Plaza Theatre El Paso United States
Find Tickets
Fri 9th Nov 2012 Bass Concert Hall Austin United States
Find Tickets
Sun 11th Nov 2012 Bass Concert Hall Austin United States
Find Tickets
Mon 12th Nov 2012 Jones Hall For the Performing Arts Houston United States
Find Tickets
Tue 13th Nov 2012 Jones Hall For the Performing Arts Houston United States
Find Tickets
Thu 15th Nov 2012 Music Hall at Fair Park Dallas United States
Find Tickets
Fri 16th Nov 2012 Lila Cockrell Theatre San Antonio United States
Find Tickets
Sun 18th Nov 2012 The Brady Theater Tulsa United States
Find Tickets
Mon 19th Nov 2012 The Brady Theater Tulsa United States
Find Tickets
Wed 21st Nov 2012 Orpheum Theatre Memphis United States
Find Tickets
Sat 24th Nov 2012 Moran Theater Jacksonville United States
Find Tickets
Sun 25th Nov 2012 Moran Theater Jacksonville United States
Find Tickets
Tue 27th Nov 2012 Bob Carr Performing Arts Centre Orlando United States
Find Tickets
Wed 28th Nov 2012 Bob Carr Performing Arts Centre Orlando United States
Find Tickets
Fri 30th Nov 2012 Broward Center For the Performing Arts Ft Lauderdale United States
Find Tickets
Sat 1st Dec 2012 Broward Center For the Performing Arts Ft Lauderdale United States
Find Tickets
Mon 3rd Dec 2012 Ruth Eckerd Hall Clearwater United States
Find Tickets
Tue 4th Dec 2012 Ruth Eckerd Hall Clearwater United States
Find Tickets
Mon 10th Dec 2012 Paradiso Amsterdam Netherlands
Find Tickets
Tue 11th Dec 2012 Grunspan Hamburg Germany
Find Tickets