"The Brutal Here & Now" is the second album from Dublin's folk/rock/trad band 'The Spook of the Thirteenth Lock'. It's gathering the band some fine attention from media and fans for their high energy and hard to define sounds.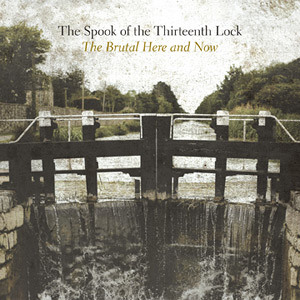 In my mind 'The Spook ....' are a great Irish band with fantastic musicianship and a sound that blurs traditional genre lines. 'The Spook' sound like the result of a jamming session between Sonic Youth and Planxty in that every song off The Brutal Here & Now contains crashing alternative guitar riffs as well as traditional banjo and the fine taditional sounding vocals of Allen Blighe.
The eleven tracks are divided in two by a short instrumental 'Ríleanna na hIfrinn' with the second side being far superior to the first. The title track and lead single which appears in two parts is a fine representation of the sound of 'The Spook ...'. It has energy, warmth, charm, complex backing vocals, intertwined guitars, banjo and bass but most important of all is that it comes together really nicely to be one of the best songs I've heard this year.
The other stand-out tracks are 'Sweeney's Frenzy' the intense rock sound of 'Black Diaries' and my favourite song off the album being the charming 'Bóthar Crua Larthar' sung in the Gaeilge language which builds up to an exhilarating finish.
The final two tracks 'Shudder in the West' and the folky 'The Rattling Hell' brings the album to a charming close. While this is a highly complimentary review of the album there were a few tracks which don't reach the standard of those discussed above. I also found 'The Spook's ..' formula of high energy intense sounds broken up by periods of gentle arty soundscapes a bit repetitive. Regardless of what I wrote just there it's still a superb album well worth getting!
The Spook of the Thirteenth Lock - The Brutal Here & Now [10 out of 12]
http://thirteenthlock.net/