'Estuary' is a solid debut album of unpretentious rock tunes from Australia based Irish singer-songwriter
Minus Circus
with a few superb moments of brilliance.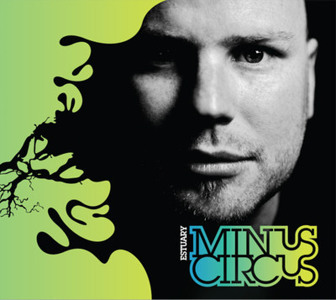 I've just read the bio of Minus Circus on his
website
and I got a real sense of the meaning behind 'Estuary'. This album is the result of a decade's work from the Drogheda born artist. All those years running singer-songwriter nights in Dublin, playing numerous gigs every year, years writing and re-writing personal songs have been channeled into this album and it has all been worth the wait.
There's a lovely nostalgic feel to the album like it belongs to the Irish scene around the time Damien Rice was still gigging and before Bell X1 began impersonating Talking Heads. Vocally Minus Circus reminds me of Paul Noonan on most of the tracks while on others I hear Colin Devlin. Any one of the ten tracks could be considered for release as a single but the opening track 'Home' really sets the tone for the album with it's highly personnel lyrics.
Other notable tracks include the 'Coldplay-esque' 'Where Is The Love?', the energy of 'Guarantee' and the piano based balleds 'Outside' and 'The Gem' which is my favourite song on the album. The most contentious lyrics on the album is the song about justice to the 96 Liverpool fans who died at Hillsborough in 1989 called 'The Truth'. The song itself is a really good folky rock song in the style of The Levellers when they were decent but lyrically it sticks out from the other very personnel songs about love, belonging, feeling distant, letting go .... etc.
I really enjoyed listening extensively in 'Estuary'. It has the songs to make Minus Circus a star in Australia and with a touch of luck that success in Australia will travel homeward as well.
Minus Circus - Estuary [10 out of 12]
http://www.minuscircus.com/