Cafe Irlandaise is an alternative mix of female voices from Ireland and it's completely free to download!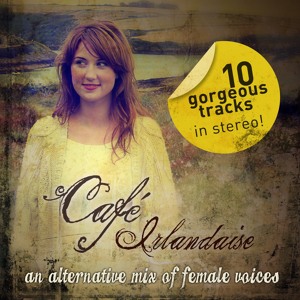 I think this is a superb compilation with a simple function to celebrate
"the unique sounds coming out of Ireland at the moment .."
. The ten tracks chosen for the compilation come from bands, duos and solo artists but all of them are sung by females. I've discovered some wonderful acts through this compilation as well as being delighted that some of my favourite acts got chosen for the album.
Tara Masterson Hally's
'Lingering' is the opening track. Tara was tipped by
State.ie as a 'Face of 2012'
and I can understand why based on this track. Her vocals are amazing over a gentle guitar rift with the haunting backing vocals you'd find on a Kate Bush track. It's followed by the jewel of the compilation. Described as Baroque folk pop,
Sí from Cork
is one amazing artist. The haunting vocals and superb and the instrumentation is wonderful. The track is called Toy Soldiers (alla marcia funebre) and deserves to be listened to.
The haunting vocals continues with
Laura Sheeran
and her sound of electronic/orchestral soundtrack which can only be described as epic. The compilation flows onto another epic song from
Foxglove
with vocals from Niamh Murphy. Their sound fuses folk, pop and electronic to create another superb track. The album moves onto Cocteau Twins style indie pop with the song 'Higher' by
In Valour.
With some many different genres on the album there has to be at least one skipable track and that for me is the
'Low Sea'
track 'Never Yours. Luckily we're back on form with this little happy pop song from the wonderfully titled act
'Femmepop'.
With comparisons to The Pixies and The Lemonheads, 'Femmepop' is another band for me to watch out in 2012. The final three tracks on the compilation are acts that have featured regularly on the blog. Recent favourite
Bona Fide Federation
impressed me big time with their gig in The Grand Social last month. Vocalist from Bona Fide Federation Triona O'Neill has such a great voice and the 'Juanita Cadenza' song on the compilation showcases her fine vocals. The indie folk of
Sive
and their song Sunkissed fits in well after Bona Fida Federation. The album closer is from
Odi
whose wonderful debut album was released in 2009. Her folk song 'One in a Million' with it's slow handclap and fine strings brings the album to a satisfying end.
I think it's obvious from what I wrote above that I've been impressed big time by this compilation. I hope you all either download it using the link at the top of the page or
go here to get it one track at a time!
Cafe Irlandaise - An Alternative Mix of Female Voices [11 out of 12]