Opening this year's
Temple Bar Trad festival
in The Button Factory last night was
Lisa O'Neill
playing to a large appreciative audience in The Button Factory. It was a quality night of great tunes and funny quirky mid song explanations which charmed the crowd all night!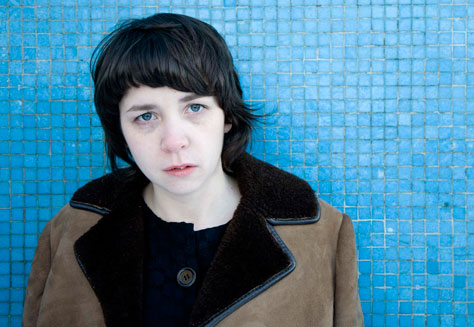 Lisa O'Neill had the pleasure of being introduced by Mannix Flynn who gave a 'William Wallace' style introduction by saying they can pay the Anglo bondholders but they'll never take our Lisa O'Neill! And so began a night of enriching music and great storytelling from Cavan's Lisa and her band of Mossy Nolan from Co. Galway and Stina Sandstom from Co. Sweden!
The set-list was predominantly taken up by new songs from Lisa's forthcoming album. She also played a number of songs from her 2009 debut album including the popular 'Bobby D', 'Sparkle' and the concert closer 'I'm Gonna Get Me to the Road'. There was also a few traditional tunes thrown in for good measure. Many of the new songs like 'Muse Head' were love songs which Lisa was reluctant to explain yet it was the song explanations and Lisa's personality which glowed all night.
The new songs were excellent and they'll hopefully be on the new album released throughout the year. 'It's Just Milk' and the song with the working title 'Denver' were particularly good. My attention waned a bit throughout the set as I felt Lisa needed something extra on stage. When I seen Lisa perform a few years ago she had a harpist play and it looked like at the Spirit of Folk festival a bassist performed with her on many of the tracks. Either a harpist or bassist would have enriched the performance for me. This is the only small negative from the gig.
I'm really looking forward to hearing the new songs on the album. Similar to her debut, the new songs have attitude, bite and charm and now that she has a big fanbase, the new album will help Lisa make it to the next level at home and internationally!
http://www.facebook.com/Lisaoneillmusic