'December Moon' is a quality folk/roots album which is consistently brilliant from start to finish.
The Henry Girls
hit all the right spots on this their third album.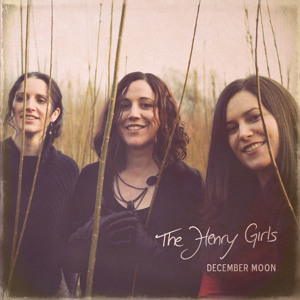 The Henry Girls are sisters from Inishowen in Co. Donegal, Ireland and have been performing together as a band for almost a decade. I get the feeling that 'December Moon' is going a breakthrough album for the band. It's released on the back of European tours and a successful Summer tour in the US. It's recent release also precedes a big European Spring tour as well as a return back to America. There are many really great songs on 'December Moon' which will appeal to fans of folk and roots with the band being comparable to The Dixie Chicks, The Good Be Tanyas or The Indigo Girls.
The 14 tracks include two instrumental arrangements, eleven original tracks and a fine cover of Elvis Costello's 'Watching the Detective'. While it's fair to call this album a folk album it flirts with happy Pop on tracks like 'When Will I See You Again' and 'Fool's Gold'. There are well written ballads such as the beautiful 'Farewell' and the blissful 'Sweet Dreams'. We also have homage to roots and bluegrass on 'Ol' Cook Pot' and 'The Long Road' and then there's the theatrical cover of the brilliant 'Watching the Detectives'. All these genres fit together because of the cohesiveness of the harmonies and the musicianship on the album.
The best track on the album is the title track and it best sums up what The Henry Girls have to offer. This love song 'December Moon' contains wonderful harmonies and a soundtrack that begins with a simple beat, violin and a hand-clap but builds up nicely while still holding the vocals at it's core. It's a superb song.
02 December Moon by The Henry Girls
I really couldn't find a major fault with the album. However out of 14 tracks I'd only consider four of the tracks being of the highest standard [December Moon, Rain and Snow, Sweet Dreams and Farewell]. I have a feeling this album will take The Henry Girls all over the world and on bigger stages than they currently play now.
The Henry Girls - December Moon [11 out of 12]
http://www.thehenrygirls.com/